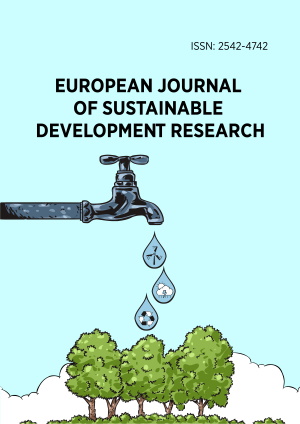 European Journal of Sustainable Development Research (EJOSDR, e-ISSN: 2542-4742) is a quarterly, double-blinded peer-reviewed journal that analyses topics related to environmental sustainability. The journal invites scientific articles that explore, analyze and review research on the relation between nature, environmental science and humanity. It is encouraged to submit articles that aim to contribute to the science of sustainability by offering new solutions or revisiting conventional methods. The journal accepts scholarly works that focus on the individual as well as policy-making levels.
The journal is an Open Access journal.
There is no submission or publication fee currently.
CURRENT ISSUE
Volume 6, Issue 3, 2022
In Progress
ABSTRACT: Horticultural processing involves intensive consumption of water and energy. It's unknown whether the current energy and water use practices by micro, small, and medium enterprises (MSMEs) are sustainable. This study was conducted to investigate knowledge, attitude, and practices on energy and water use by horticultural processing MSMEs in Kenya. A cross sectional research design was adopted and purposive sampling was used to select 39 horticultural processing MSMEs. Data were collected using a structured questionnaire. The study found that the MSMEs had excellent knowledge on energy and water use efficiency. The study further found out that 75% of the respondents had a positive attitude towards the environment. Over 80% of the respondents had adopted simple housekeeping practices geared at conserving energy and water. Multiple linear regression indicates age has an effect on knowledge, attitude, and practices (R2=0.272; F=4.238; P=0.012). The other variables had a non-significant effect on knowledge, attitude, and practices. Despite the high level of knowledge possessed by the MSMEs, they still have not adopted long term practices that will lead to sustainability in the long run. In addition, the findings from this study reveal that MSMEs are not sufficiently motivated to move from positive attitude towards energy and water use practices. Subsidies and rewards could help MSMEs adopt practices that will lead to sustainability in this industry in the long run.
ABSTRACT: The study assessed the impacts of processing methods (sun drying and oven drying) on the proximate and phytochemical composition of unripe Musa paradisiaca (plantain) flour. Proximate and phytochemical analyses of the samples were performed using the standard methods. The unripe plantain flours were dried using sun drying and oven drying process and compared against fresh plantain for their nutritional and antinutritional content. The proximate content (%) of the unripe Musa paradisiaca include crude protein (3.58±0.43), carbohydrate (68.74±1.10), crude fat (2.02±0.19), and moisture content (9.06±1.88) after oven drying while crude protein (3.24±0.09), carbohydrate (64.84±1.24), crude fat (1.29±0.26), and moisture (15.86±1.61) were obtained after sun drying of unripe Musa paradisiaca. The phytochemical analysis (%) showed that the unripe Musa paradisiaca samples contain alkaloid (0.30±0.10), flavonoid (0.40±0.06), saponins (0.36±0.10), and tannin (0.30±0.10) for oven dried whereas some amount of alkaloid (1.18±0.20), flavonoid (0.79±0.16), saponins (1.59±0.23), and tannin (1.70±0.26) were observed for sun dried feedstock. The analysis of the nutritional composition implies that drying style has the potential to lower the moisture levels of plantain flour (p<0.005), whereas oven dried had the least moisture levels compared to sun dried and freshly prepared samples (59.74±1.88). The crude protein and phytochemical contents of the processed samples also reduced significantly, while carbohydrate, ash and crude fiber contents increased significantly (p<0.005) in relation to freshly prepared (27.84±1.27; 1.87±0.42; 1.62±0.51). The drying procedure of the unripe Musa paradisiaca produced flour with comparable nutritional contents, as oven dried gave least moisture content which is indicative of high potential to prevent spoilage and microbial development thereby increasing and prolonging the lifespan to usability.
ABSTRACT: Building envelope such as external walls are still constructed from poor materials which results in higher heating and cooling loads thereby raising energy bills. Improving building energy efficiency with advanced technologies is being sought. In this context, a numerical study was conducted to solve the coupled heat transfers through a standard wall structure used in Libyan residential buildings. Different techniques were compared to reduce the thermal transmittance of the traditional wall structure for saving energy including the application of radiant shield, low-e coating, insulating filling and external insulation. The numerical results revealed that the thermal radiation inside the cavities of hollow block is important and accounts for 21% of total heat transfer, while conductive and convective heat transfer contributes by 65% and 14% from the total, respectively. The obtained thermal transmittance value of the common wall structure was considered as high as 2.33 W/m2·K due to lower resistance of wall elements. The adoption of 50 mm layer of expanded polystyrene insulation (EPS) to the exterior wall showed the best thermal performance with a reduction of thermal transmittance by 45%. On the other hand, filling the interior of cavities with EPS resulted in a 37% reduction of thermal transmittance compared to 20% of using 3 mm aluminum foil as a radiant barrier in the middle of the cavities. The last case was less effective with a reduction of almost 10% when a commercial coating of 0.4 surface emissivity was applied to the interior of cavities.
ABSTRACT: This paper investigates the pairwise causality and co-integration that links fossil fuel consumption (FFC), carbon dioxide (CO2) emissions, and real gross domestic product (RGDP) between low-income countries (LIC) and high-income countries (HIC). This comparative analysis is anchored on Lv et al. (2019). Lv et al. (2019) enable the analytical framework model utilized to investigate the causality between FFC and CO2, CO2 and RGDP, and FFC and RGDP in HIC and LIC. Data were obtained from world development indicator between 1960 and 2019. The results obtained are, as follows: There exists a unidirectional causality, thus the RGDP granger causes CO2 in HIC, and no causality between RGDP and CO2 in LIC. Also, the study found no causality between FFC and RGDP, and FFC and CO2 in HIC and LIC. The mixed inter-regional causality result showed that there exists bi-directional causality between RGDP and CO2 for HIC and LIC. This implies that RGDP in LIC granger causes CO2 in HIC, and CO2 in HIC granger causes RGDP in LIC. Hence, the presence of a regional super-wicked problem. Also, CO2 in HIC granger causes FFC in LIC. The result suggests that countries should seamlessly adopt proportionate mitigation and adaptation policies to reduce the pollution transmission between economies. The non-existence of pairwise co-integration between FFC, CO2, and RGDP in HIC and LIC connotes that the CO2 reduction policy should be a short-term public policy strategy with conscious and deliberate targeting to avoid long-run growth reversal. Therefore, this paper concludes that reducing FFC may not necessarily lead to a decline in growth vice versa. Thus, to achieve a low carbon economy and a high growth regime, the global community should adopt a techno-economic paradigm model that would accelerate growth within a low-carbon economy regime to realize the 45% carbon reduction target by 2030 and the 2050 net-zero emission target.
ABSTRACT: Does foreign direct investment (FDI) migration into Nigeria and Sierra Leone generate a climate change scare (CCS) based on the pollution haven-halo hypothesis? The quasi-experimental design study utilized data from the world development indicator, 1970-2019 using a nonlinear autoregressive distributed lag (NARDL) model to estimate the dynamic impact of FDI migration on CO2 emissions (a proxy for CCS). The study found that the change in FDI migration in Sierra Leone causes upward CO2 emissions. The positive impact of FDI migration on CO2 emission implies that the pollution haven hypothesis exists in Sierra Leone. Comparatively, dynamic FDI migration into Nigeria caused a mixed impact on CO2 emissions. The result found that an increase in FDI migration caused a decrease in CO2 emissions in Nigeria. Similarly, a decrease in FDI migration caused an increase in CO2 emissions. Also, the Wald F-test suggests a long-run asymmetry and symmetry between FDI and CO2 emissions in Sierra Leone and Nigeria, respectively. Hence, there is the presence of a pollution halo-haven issue in Nigeria. The study, therefore, recommends that green FDI financing that supports environment-friendly technology export into Nigeria and Sierra Leone that would enable optimal climate change control both in the short- and long-term. Thus, technology that efficiently improves environmental quality, preserves, and protects the ecosystem should be imported into Sierra Leone and Nigeria.